A great tale well told. I guess this would be urban fantasy…though there's no forced romance, no vampires or werewolves or fae, no angels or demons. But it's fantasy and it's set in urban England. You really must read it with an English voice in your head from the opening paragraph or you'll stumble over the phrasing. Once you have that sorted, it really really works.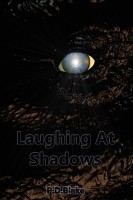 I love good stories where street people are main characters. The story is told sympathetically toward them, with a couple of very black and poignant moments to do with their inner worlds towards the end. The author didn't labour these backstories which I truly appreciated; these people live entirely in the Now which is true of the people I've worked and spoken with.
The fantasy is fun and often funny. The novella is sprinkled with that wonderful English humour in the vein of the Goons, the Python boys, Terry Pratchet. It's pacey with a beautiful mix of English ordinaryness and the bright and shiny Otherness of a wider universe. A quick and enjoyable read. 4 stars.