Archive for the 'On Writing' Category
A talented writer and artist, Jason Franks is the energetic force behind comic series such as McBlack and Left Hand Path, as well as the novel Bloody Waters (which I am halfway through at-time-of-writing and absolutely loving). I've been lucky enough to pre-read the first two chapters of next year's release: Shadowmancy which kicks butt…and I'm doubly lucky to belong to the same writing group as Jason.
I caught up with him recently and pitched five questions and a statement his way …
***
1.  Can you tell us something of your creative process: what happens between the genesis pool of ideas and completed, polished projects?
Usually, an idea will roll around in my head for a while before I start writing. Unless I'm working on a commissioned project with a deadline, this process will usually continue for months, or even years. I let my subconscious do most of the work at this stage. Mass accumulates–more ideas adhere to initial thought–until there's a story there. Then, suddenly, I need to get it out. I guess it's like a kidney stone in that regard.
The joy is all in the first draft, for me. I like to write my way into the characters and settings and they often surprise me. I do not generally outline my stories, but I do almost always know where they're going and I just strike out towards the destination.
Then, the long hard slug of editing and polishing. I've completed some of my more recent stories in four or five drafts, but I've been known to do 15 or 20 before I am satisfied. I am currently looking for ways to streamline this part of the process.
2. Apart from the pictures, what's different about writing for comic/graphic novel and writing pure prose (short story or novel)?
It's a very different discipline. You can't really say 'apart from the pictures' because 90% of a comicbook IS the pictures. Even if you're not drawing them yourself, you need to communicate to
the artist how to visually tell the story–how to break it up into images. As a comics writer you may or may not contribute to page composition but you will usually control pagination and panel density, and those are they key elements in pacing. Learning to pace a comic with a fixed pagecount is very different from learning to pace a prose story.
Comic script has that increased overhead and requires more planning, but you don't have to worry as much about polish–so long as your descriptions are clear to the artist your script does not have to be beautifully written. Copy that will appear on the comics page is only a tiny fraction of the writing. With prose every word needs to be perfect, which for me requires a lot more editing. Usually I will nail a comic script on the second pass.
Also, comics works tend to be shorter. You will usually have a limitation in the amount of page real estate available and that limits he amount of story you can tell. Detail belongs in the artwork.
3. McBlack remains your most popular comic work: what's it about and what's the inspiration for it?
McBlack concerns the metafictional adventures of Whiteface McBlack, a freelance thug. McBlack will take on any kind of dirty job: detection, skip tracing, sabotage, arson, murder–provided it promises the opportunity to shoot some dudes or blow up some stuff. This is me smashing genres together to see what breaks. In the first book, McBlack is hired by a dame to find her missing husband. He's assigned the role of a Phillip Marlowe (hero of The Maltese Falcon), but his behaviour is closer to that of Angel Eyes (the villain from The Good, the Bad and the Ugly). You're expecting a noir mystery, but instead McBlack rides the story roughshod over tropes more familiar to the SF, fantasy, horror and western genres.
What was the inspiration? Well, I noticed how many independent comics writers go directly to The Maltese Falcon when they need a plot ("It's the Maltese Falcon–but Marlowe is a Samurai!" "It's the Maltese Falcon–but Marlowe is a Talking Cauliflower!") and I decided I was sick of it–so I guess this was me over-reacting to that. ("It's the Maltese Falcon–but Marlowe is a bodiless murderer with a grudge against the Fourth Wall!").
The colour one-shot stories are discrete missions, in which McBlack takes on different modes of storytelling (video games; dreams) and different tools employed in comics (voice-over captions; thought balloons).
Lady McBlack, the new series, is a continuation of the main story–this time looking at romance in these genre stories. (Yes, really!)
4.  How much of your own interests and experiences are in Bloody Waters? (My son has a guitar with a Floyd Rose Tremolo, btw, just like Clarice).
Well, I guess it's fairly obvious that I'm a music nerd. I play the guitar–badly–but I've never been in a rock band. I'm interested in writing music, but I completely lack the desire to perform in front of an audience.
I've never tried to summon the devil, but I do have a particular interest in villain characters and Old Scratch is pretty much the logical endpoint of that line of inquiry, so he turns up quite a lot in my fiction.
I did play trumpet in various high school bands, so a lot of that stuff comes from life. I've spent a lot of time hanging around in guitar shops and reading guitar magazines and I know a bunch of people who have and do play in legitimate rock bands, so hopefully my descriptions of the gear and the music is reasonably accurate.
Aside from that, I guess you can see a bit of the creative artists's wish fulfillment in there. I wish I was as good a writer as Clarice is a musician. I wish I had the kind of career she does. I wish I was as talented and driven and confident. I also wish I was as laid-back and patient and pleasant as Johnny. There's a bit of me in all of the principle characters–and that most certainly includes Satan.
5.  What can we look forward to in next year's novel Shadowmancy (and what's the title about anyway)?
Shadowmancy began as comic serial which was to run in my regretfully short-lived Terra Magazine. It's a 'dark urban fantasy' about a damaged boy who is enrolled in a magicians' Academy after his disgraced father is kicked off the faculty. It's more Ursula Le Guin than Harry Potter–by way of Cormac McCarthy, maybe. This is not a book full of whimsical hijinks; it's about damaged families and institutional power and coming of age and… well, it's about magic. I wanted to take a deep dive into the discipline of a magician. The story is written in the first person, by a protagonist who has some pretty heavy duty baggage, so there's a lot more introspection than spellcasting. I want to give the reader a taste of what it feels like to have power, but to yet be powerless. It's not for children. I hope it's not boring.
The title refers to magic that is based on the manipulation of shadows–literally, metaphorically, and all of the Jungian stuff in between.
Statement: "It's impossible to make a living as a writer in this day and age."
I don't think it's impossible, but I think it's becoming increasingly difficult. During the years in which I was pitching Bloody Waters I noticed more doors in traditional publishing closing than opening and I think that continues to be the case as the big five struggle to come to terms with the evolving market. There are more opportunities than ever to get work out there, via small press and self-publishing, but that also means there's more competition. I hope it is still possible to make a living as a writer and I wish I could–but I am certainly not at that point yet.
Thanks, Jason!
***
See also:
A true gentleman of the publishing world,  Geoff Brown/G.N. Braun is an author, an editor, the irresistable force behind Cohesion Press and Cohesion Editing, as well as a prolific Facebook status-poster.
I caught up with him recently and pitched five questions and a statement his way …
***
Geoff, what made you a writer? (As opposed to a fireman or astronaut or short order cook).
I don't think anything really made me a writer. I've always loved to read, and I've always written. When I was in high school, I did best in English classes, and my creative writing stuff always earned me high marks. I've always been a storyteller, whether vocally or writing things down, so I think I have always been a writer, and it just took over my life as I grew older.
What lead you to become an editor, in addition to writing?
I'm a grammar ninja. Always have been. The reading that I
mention in the first answer was always a case of noticing the errors and typos in books while I read them. After I started getting published, I worked with editors and saw the job from the aspect of a writer. Then, I completed a full-time Diploma course at TAFE – Diploma of Professional Writing and Editing – and the editing side of things was something I just felt was natural for me. As anyone serious about their writing knows, there is little money to be made in books unless you are King or Patterson or Child, so the natural thing for me was to move into a field where there was money to be made while working with the things I loved the most – words.
Tell us about your last release as G.N. Braun. What was its genesis and the thing you're most proud of?
Well, my only full-length release so far has been Hammered: Memoir of an Addict, and it holds a special place in my heart. It's the true-life account of my early life as a substance abuser who mixed on the edges of criminality for many, many years.
It shows my history as a drug-user throughout the 80s, 90s and 2000s in Melbourne, Australia. It tells how I was first introduced to drugs in my mid-teens, the lifestyle I led while using and selling drugs – from marijuana through to speed and heroin – and how I finally gained the strength and conviction to get off drugs. Hammered is available from Amazon as a Kindle book (http://www.amazon.com/Hammered-Memoir-Addict-ebook/dp/B007F2851W) and in print (http://www.amazon.com/Hammered-Memoir-Addict-G-N-Braun/dp/0987159267) and on all the standard online sales points, including Apple, Nook, and Kobo. I'd read many memoirs of addiction. I loved A Million Little Pieces until I found out it was mostly rubbish embellished by the author. I struggled through The Heroin Diaries by Nikki Sixx, mostly due to the fractured narrative set up in diary form. Best of all, I read William S Burroughs' timeless memoir Junkie, his first published book. I fell in love with his writing. It was both dead and alive, just like I was. There were all the standard junkie tropes, but there was something more. An undercurrent of blandness and focus that only another junkie could relate to, yet put in a way that it would be somewhat apparent to readers of all stripes. It rang of my truth. I tried for the same subtext in Hammered. I'd like to believe I rang that bell.
I own a copy of that book and found it compelling. I gave it a 5 star review on Goodreads…Tell us about your publishing house. What inspired it?
Cohesion Press was a result of my longing to move into publishing the work of others combined with the nudging from my wonderful wife, Dawn, who knew about my longing.
I already had Cohesion Editing and Proofreading running, so it wasn't too hard to incorporate the new direction into the current business. It really makes me feel good to put new and established authors out into the world, to help spread the word about great writers, either Australian or from another country. I wanted to show what I thought was great writing. We're not in this for short-term gain. We offer some of the best royalty percentages in the business, and for me it's all about the writers making as much as they possibly can, while still leaving us enough to cover costs and promotion of the books.
What annoys you in the publishing world?
I see it all the time, all over Facebook. The 'author' that claims to be an editor and then charges people for sub-standard work that does little to nothing to improve the manuscript they work on.
I studied full-time for two years at college level, gaining a Diploma of Professional Writing and Editing, and upon graduation was awarded two 'Student of the Year' awards, for Christ sake. I opened my own editing business halfway through the course, and it has built up to the point where I subcontract to a number of highly-skilled professionals. Yet I see all these untrained people calling themselves editors and taking money from people and offering no real expertise in the field. I look at their (usually amateurish) website, and I see no list of qualifications. At least, nothing that really applies to professional editing. It really galls me that so many people think that just because you can read and write it means you can also edit. For God's sake, people, go and get some proper training and then come back.
Professional editors get trained and educated. Professional editors work so hard at improving their skills that they bleed sweat every single day learning the difference between tenses, the minutiae of grammar, the many and varied plot elements, characters, story arcs, and everything else that makes a great book. Editors constantly stay abreast of new skills and styles. Editors have an eye for design, an eye for voice, an eye for a unique narrative style, and they have qualifications to show this. Yes, there are some naturally-good editors, but they are few and far between. For the rest of us, the skills are learnt, every single day of our lives. Most of all, editors read as much as writers should read.
Just because someone can self-publish and open a Facebook page doesn't make them an editor. And it never will.
Statement – please respond: The overabundance of sub-par (and poorly edited) novels and short fiction online nowadays makes it more difficult for readers to find and purchase quality fiction.
Apart from untrained editors (who contribute a lot toward this problem) my other bugbear in the publishing word is authors who rush through a novel, write the second draft after untrained beta-readers have given some feedback, and then upload to Amazon an unedited work that is full of typos and mistakes. They usually top it off with cover art that looks like a bad cut-and-paste job done in Microsoft Paint, or like someone has given a few pencils to their talented
five year old child.
Every book needs an editor. Writers, no matter how great, need a new pair of (trained and experienced) eyes to look over their work. Writers see what they believe is there, yet editors provide the fresh eyes that see what really is there. No matter how great the writer, an editor, a good editor, will find the flaws, the problems, and the blind spots that the author can't due to being too close to the story to see what is really needed to make the manuscript great rather than good. And get professional cover art, too.
I will say, however, that the abundance of bad cover art makes it easier for readers to sort out the good books from the bad. You always hear not to judge a book by its cover, but that's what we do. It's a fair assumption that an author who didn't spring for a great cover likely didn't spring for a great editor, either.
…
COMPETITION!!
Geoff has kindly offered the following as prizes to eager readers! There are five ebook copies of Hammered (epub or Kindle), and five of Martin Livings' Carnies (also epub or Kindle and published by Cohesion Press).
To win a copy of Hammered, post an answer to the following question in the comments section of this blog post:  What's the name of G.N. Braun's first short story listed on his "bibliography"? First five correct answers win the prize. 
To win a copy of Carnies, post an answer to the following question in the comments section of this blog post: In what year was Carnies originally published? First five correct answers win the prize.
Note 1: Don't be a putz. Please. This is a competition in good faith. I decide which victors receive the spoils and I will do my best to be fair and just.
Note 2: Yes, you will need to click a few links and do a bit of "research" to find the answers. The links below will no doubt help you in your quest for knowledge.
LINKS:
***
See also:
RANT ALERT.
Last weekend, a good friend (during one of his frequent diatribes) looked me in the eye and said, "I'd prefer to read a good biography, because novels in the end are just fantasy, they're not real and they don't offer anything helpful." In the context of his diatribe, he meant that fiction does no one any good except to switch their brain off for a while (as if that wasn't worth something in itself). To be fair to my friend, he'd obviously forgotten what I write — he wasn't attacking me, he was just being … honest … and a little oblivious…
Back in February, during coffee with another close mate of mine, he politely asked me how my writing was going and with glazed eyes and fixed smile he endured a couple of minutes of me telling him. It's been obvious for several years that he just doesn't "get" why I'm pursuing writing fiction. When I mentioned that I'd once tried to write a self-help book, he perked up and said, "Yeah? Would you concentrate on something worthwhile like that?"
Worthwhile, huh? Sigh…
So. Of course I'm a little irritated. But I'm also stirred to think through what good is speculative fiction? Am I wasting my time by the hours I spend writing it? Reading it? (Watching it?)
Ian Welke (author of The Whisperer in Dissonance) recently wrote:
John Shirley has been one of my favorites ever since his "Song Called Youth" trilogy came out in the 80s. "A Song Called Youth," helped save me from depression then. Before I read it, I was depressed and angry. After I read it, I was still pretty much depressed and angry, but I at least felt like someone saw things the same way, and felt not so alone.
I want to say here that this nails one of the major "advantages" great sf/fantasy/horror (fiction) has over self-help or biographies — namely that teenagers actually read it!
Many many people have said similar things to me over the past few decades, about how a story has improved the quality of their life, gotten them through a hard time, helped them see the universe in a different light. Ian's written comment here (used with permission) puts it beautifully.
Fiction also fleshes out values, concepts, ethical dilemmas, life stage issues and so on and so on. In ways that enable the reader to engage at a wholistic (right brain) level. And yes, I added a "w" to "holistic" — I meant to.  
In fiction, people get to do things we don't have time to do in real life, namely focus 100% on the problem that's confronting them. This can be enormously helpful to process our own painful feelings, tough decisions and general stresses.
Fiction can inspire the positive in us. Star Wars A New Hope inspired me at 11 years old to make my life significant, to affect the world. Grandiose at 11, sure. Thirty-whatever years later, I find I've worked hard to be of service to others and to refine myself to be the best me I can be. This yearning was captured and inspired by a "religious conversion" at 16, but it started at age 11 with a science-fantasy epic…and I believe God was behind me watching that movie too.
Rant over. Final word: fiction rocks.
…Maybe I should have written this as a story…
I have to admit, I'd never read or heard of Ronald Malfi before picking up the Kindle edition of Cradle Lake.
But I'm bloody glad I have now.
I've just finished the novel and thoroughly enjoyed it. Great fiction should not only thrill you, it should take you inside a character's personal problems with empathy. And thrill you. Cradle Lake does both. I'll definitely be reading more of his work into the future.
I caught up with Ronald recently and assailed him with five questions and a statement…
PETE:  What did you read, growing up?
RONALD: I read everything I could get my hands on. Genre didn't matter, the author didn't matter. When I was about eleven, I found a box of old books in my grandparent's rec room and
spent the summer reading everything from Reader's Digest condensed novels to Lolita by Nabokov. I cut my teeth on Stephen King with his fantasy novel, The Eyes of the Dragon, and later discovered the wonderful prose of Hemingway, Fitzgerald, and the rest of the Lost Generation.
PETE:  Tell us about Cradle Lake: what was its genesis? What are you most proud of in it?
RONALD: Cradle Lake started out as a subplot that was ultimately excised from my novel, Floating Staircase. I really liked the relationship between the husband and wife, and their back story with the miscarriages and the wife's subsequent depression, but it didn't really fit with the themes of Staircase. So I cut it out and worked on it as a separate project, which quickly took on a life of its own. My wife was pregnant at the time of writing it, so my mind was already a mess with fears of becoming a father for the first time, and all the things that could go wrong in pregnancy. I'm most proud of the relationship between the two characters, how the husband has become so obsessive about taking care of his wife that he loses sight as to whether he's actually helping her or hurting her.
PETE:  Exactly what's engaged me the most in this novel. Where are you heading next in your writing?
RONALD: In May, my novel December Park will be released. It's a coming-of-age novel about five teenagers growing up in the nineties who vow to stop a killer that's murdering children in their hometown. It's marketed as a thriller, but I feel it works just as well as a mainstream novel about childhood, friendship, and growing up. I'm very excited for this book to come out; it's very personal to me.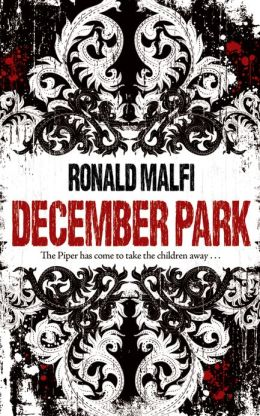 PETE:   What was the best piece of writing advice you ever received?
RONALD: This is a tough question. Advice is a tough thing, particularly in this business, where there is no sure way to success and everyone's experiences are different. There is one constant, though: to succeed as a writer, you must read and you must write. Every day.
PETE: What are you "into" (reading/watching) at the moment that you think the whole world should be into also?
RONALD: I don't watch a lot of TV, though when I do, I enjoy independent films, genre and otherwise. I have very little interest in what Hollywood is doing. As for reading, I continue to read everything I can get my hands on. I've recently read John Fowles's The Collector and Herman Koch's The Dinner, which was fantastic. I prefer fiction that challenges the reader, that is artful in its presentation and eschews the familiar tropes of specific genres. That said, I find myself reading horror fiction less and less nowadays, as much of it is formulaic and disappointing.
PETE: What are your thoughts on this statement?  "Every character, no matter how noble/depraved/deranged/outrageous, reveals something of the author who created them."
RONALD: By virtue of the craft, the author will always bring something of himself to the work he creates, to include the characters, but I think it's presumptuous and somewhat simplistic to
assume an author will either deliberately or subconsciously invite his own personal traits into these characters. Some authors do indeed use their characters as a pulpit to pronounce their own convictions, but I don't think that's most authors. I think it's just the opposite—a good author will create real characters with real views about life that may or may not be completely in contradiction with the author's.
***
Cradle Lake is available in paperback and ebook.
You can visit http://ronmalfi.com/ for more about Ronald's other novels.
***
MORE 5 QUESTIONS POSTS:
So we had three 14 year old guys (friends of Youngest Son) staying over last night for New Year's. (The pyrotechnics are a whole other story.)
Over a brunch of hotdogs, the boys started talking about the Hunger Games books and films. My wife asked, "What's better the books or the films?" Two boys shrugged. After thinking for a moment, the other (not my son, who sadly doesn't read much) said this, quite seriously:
"Well. In the book, you can skip straight to the actual Hunger Games. In the film, you have to sit through an hour and ten minutes of crap first. So the book's definitely better."
I think this is instructive for writers, particularly writers of young adult ficiton and particularly authors seeking male readers under 30. As Montgomery Burns once said, "Get to the bloody point!"
Whatchoo think?
"Someone will die so I can live. I've come to terms with that."
So opens SLEEPER, a new YA novel by Sharon M Johnston. I am 39% through the e-book as I write this and loving it (I only review and interview authors whose works I genuinely enjoy).
I recently caught up with Sharon via Facebook and fired 5 questions and a statement at her. Here are her responses…
PETE: Sleeper is excellent. What's the main concept for the novel and where did it come from??
SHARON: Oh, to share the true answer to that would be giving away the twist at the end. It's like a bomb goes off. What I can say is that I write speculative fiction and this is that in the truest essence. I speculated about two certain people were to meet and built the whole plot to allow these two people to meet and then the fall out from this meeting: "What if this person meet this person?"
Discussing it in non-cryptic terms, it's about a girl, Mishca, who has a heart-transplant and then weird things start happening: constant nightmares, new superhuman abilities and seeing things that make her think she's crazy. At the same time, altering facing death on the operating table, she decides to try and track down her birth parents. She tries hard to fight her freakiness and focus on her new boyfriend, Ryder. But that all falls apart when she goes to university and gets a bad case of love-at-first-sight with her university professor.
I'm not sure where exactly the idea came from. I like letting my mind wander and thinking of weird things. For example, my story Karma, which was runner up in the Australian Literary Review's short story contest (which I'm now turning into a novel) came from the thought "What if there were people responsible for delivering Karma?"
PETE: I love "What if" questions… Do you or have you ever written for family members? If so, what was their response?
SHARON: I wrote my Basics of Life anthology short story GROWTH for my dad. He never read it as it was about his terminal cancer diagnosis and it was published after he died. I'm coauthoring a novel that I'm writing at the moment that's based on a concept I came up with for my son. He has epilepsy and in the story the seizures are more like a superpower. He loves the concept and I'm excited for when he'll get to read it.
PETE: That must be truly cool for your son. So, who have been the most influential writers in your world?
SHARON: Holly Black has definitely had a huge impact on me. Her Curse Workers series helped me find my preferred writing style and understand writing from a male POV. Angela Slatter has been somewhat of a mentor to me, and edited SLEEPER (as well as coming up with the book name and series title!). She's not only a fantastic writer, but a giving person who has helped me understand the industry and how to improve my characterisation.
PETE: What habits have served you well as a writer?
SHARON: I use alpha readers when I write and I have found that that most effective way to combat writers block and pump out words (yes, Stacey Nash, I'm getting that next chapter finished soon). I used to write regularly at the beach when my husband was a lifeguard. That's a habit I miss as it was great to be unplugged and focused on the words. I also write multiple stories at once. This may sound odd, but it ensure that I don't lose an idea. Quite often I get to 20K and then return to my main WIP. Then I use an alpha reader to help me whip the rest out.
PETE: How much of yourself is in your characters?
SHARON: That really varies. Like a lot of authors, my first character, Mishca, has a lot of my traits. But there's virtually nothing of me in Justin (Karma) or Jenna (novel I'm currently querying. I have one character that is more of me than Mishca, which is Kaylee. She's in a WIP which is kinda-of autobiographical. I'm trying something different with a retelling of my senior year as though that's when my dad got his terminal cancer diagnosis. It's a bit odd, like a faux-memoir. But writing is about experimenting.
PETE: Please respond to this statement: Australian horror-fantasy-sf writers need to write Australian stories set in Australia.
SHARON: …
1. Because if we don't, who will?
2. Because the readers around the world are thinking more globally and want to know about places beyond the US/UK boarders.
3. Because Australia is kick-arse interesting and needs to be shared.
4. Because we have a unique culture that fascinates people in other countries.
***
SLEEPER is available on Kindle and will soon be available on Nook and Kobo. Watch Sharon's FB profile or website for news. Goodreads reviews here.
About the Author:
Sharon is a writer from Mackay in Queensland, Australia who has short stories published in anthologies and was also runner-up in the Australian Literary Review's Young Adult short story contest with KARMA. By day she is a public relations executive and by night she writes weird fiction and soulful contemporaries while her husband, two sons and cat are fast asleep.
***
MORE 5 QUESTIONS POSTS:
… in which I take three words from my Word Box and use them in a short piece of creative writing.
The words:
stout
kobold (ghoul)
cavalier
And now the writing:
"I wouldn't worry," Charles yawned and shuffled closer to the fireplace.
Casting about for something with which to defend them, Wilma could not believe Charles' cavalier attitude. And at a time like this! Kobolds to the left of them. Stout little mini-trolls to the right. She snatched up a poker and brandished its glowing red end with a flourish.
"I guess it's up to me, then," she said.
Already missed my deadline for last month. No excuse. Shabby shabby blogger…
Okay. Time to write. The rules: I take 3 random words from my Word Box (a box in which I throw post it notes and index cards with cool words I hear/read) and work them into a paragraph. Good for the creative juices, good for developing the vocabulary. This is a lot like taking random ingredients from the cupboard and combining them into a workable meal.
And the 3 words are … (drumroll please):
ciliated (having cilia – Latin for eyelashes – slender protuberances that project from the much larger cell body)
teredo (a kind of woodworm)
clot
…Bloody hell. Deep breath. Okay…
I ran my finger along the wood of the starboard bulkhead. Miniature bore holes pocked the planks here and there, evidence of teredos. My finger stopped at one hole that had been filled with a resin, clotted like a scab. I leaned close. The resin was ciliated in places where something grew. Mold? Or something much much worse?
And now for your challenge: last month's words were:
What can you make of them?
What makes you pick up a book and consider it? The cover art? A friend's recommendation? The title?
Whatever it is, you probably pick it up, scan the blurb on the back then flick open the first page. If you're like me, that's possibly the make or break moment for the book. Like what you read in the first twenty seconds or so and you're more likely to buy it (or borrow it if you're standing in the library).
As an author, I'm endebted to writing buddy and editor Davidh Digman for introducing me to the 25 word test. In other words, if the the first 25 words catch the editor's eye and hook them, they'll persist…just like the browser in the bookstore. So those first words are vital to the success of a short story, a book, a series even. Consider these beginnings and let me know how they affect you …
"It was a bright, sunny day. Not, you might have thought, the sort of day for hunting ghosts." (The Dark, James Herbert … I just love that play on "It was a dark and stormy night"!)
"All nights should be so dark, all winters so warm, all headlights so dazzling. The van jacked, stalled and quit on a drift, and the homicide team got out, militia officers cut from a pattern of short arms and low brows" (Gorky Park, Martin Cruz Smith).
"The man with the rubber boots stepped into the elevator behind me, but I didn't see him at first. I smelled him though –" (The Street Lawyer, John Grisham).
"There should have been a dark whisper in the wind. Or maybe a deep chill in the bone. Something. An ethereal song only Elizabeth or I could hear. A tightness in the air. Some textbook premonition. There are misfortunes we almost expect in life — what happened to my parents, for example — and then there are other dark moments, moments of sudden violence, that alter everything. There was my life before the tragedy. There is my life now. The two have painfully little in common." (Tell No One, Harlan Coben … Ok, so that's a lot more than 25 words but that's because the prose just pushes me along to the end of the first paragraph, and at that end I nod my head in appreciation…and have to force myself to put the book aside and pick up the next from my desk!)
"The loading dock smelled of turned milk, and the storeowner's breath of beer and cheese. The odors of white people, Junior Inspector Keung Yeng thought." (Illegal, Pete Aldin and Kevin Ikenberry … ok, self-indulgent, but I'm bloody proud of this opening that got us published in Andromeda Spaceways.)
"When you have to kill the same terrorist twice in one week, then there's either something wrong with your skills or something wrong with your world. And there's nothing wrong with my skills." (Patient Zero, Jonathan Mayberry).
"I know there's something wrong the moment I see the dead girl standing in the Wintergarden food court. She shouldn't be there. Or I shouldn't." (Death Most Definite, Trent Jamieson).
[Similar to the one above, but no less hook-y]: "Had the man in front of her not already been dead, Chess probably would have tried to kill him. Damn ghosts." (Unholy Ghosts, Stacia Kane).
New "segment" … or thread perhaps. This ain't television after all.
I plan each month to complete a post where I take 3 random words from my Word Box (more on that in a mo') and work them into a paragraph. Good for the creative juices, good for developing the vocabulary. This is a lot like taking random ingredients from the cupboard and combining them into a workable meal.
The Word Box? I have a box in which I throw post it notes and index cards with cool words I hear/read. From this box, this morning I have drawn the following words and will endeavour to first-draft a paragraph using them (correctly if possible):
…
The corpse reached for him in a desperate flounce that was one part spasmic dance, three parts animal savagery. He flinched from the bars, stepped out of reach and studied the deader: it had once been a him, now shirtless, floral tie knotted too tight around the turkey neck, pleated suit pants brown with undefinable muck, skin scabrous and wet with body fluids. The only question, he thought trying to get a look behind the corpse, is if the fluids were its own or someone else's.